---
The evolution in hyper-extension braces.
It was created after years of research in the SPONDYLOS Laser Spine Lab laboratories.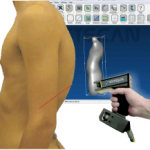 It is constructed on a mold that is digitally obtained with a Laser scanner and processed with CAD CAM programs.
Processing is not empirical and based on the hump, as is the case with plaster molds, but it is based on the digital x-ray embodied on the mold.
The material used is 3 mm polypropylene, which gives the strength required, but also a very good aesthetic effect.